2
Artist to create pottery on Joy Sunday
Editor's note: On Sunday morning, Nov. 13, Jesse Mumm will be creating pottery in the Gathering Area, to live out the theme of this year's stewardship season, Mold Us & Make Us.
Jesse Mumm has been an artist her entire life. She started drawing with her neighbor, Ms. Cay, when she was a little girl. She took her first wheel throwing class at the Putnam Museum when she was 11 – and "fell head over heels in love."
Jesse then took every single possible art class she could in junior high and high school, turning to painting when the pottery program she attended stopped offering classes. But then, the summer after high school, a $40 find at a sale in the form of a potter's wheel relaunched Jesse's pottery art. That was in 2012.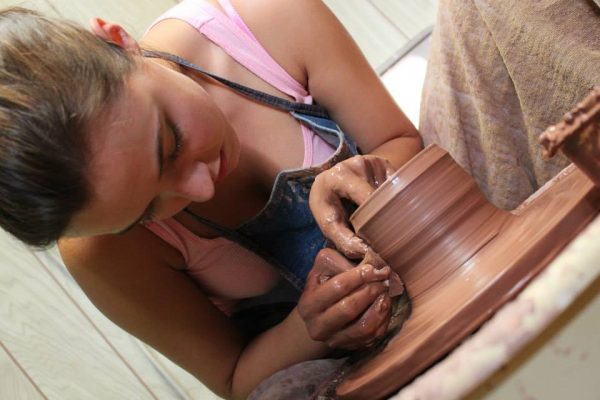 "The gentlemen having the sale also let my parents and I rummage through the basement and pick out any tools and glazes that I wanted," she says. "My parents let me take over part of the basement for my studio (which I think has a permanent layer of clay on the floor), and my dad graciously let me confiscate more than my fair share of the garage for two kilns."
Today, while juggling school and work, she throws many days of the week – typically going through 20-30 pounds of clay a day. This year, she will show at a dozen art fairs throughout the region as Mumm's Mud.
"I like the peacefulness of it," Jesse says of creating with clay. "It's a tranquil experience. I love to make things."