Packing food backpacks
At the River Bend Foodbank warehouse on the southwest side of Davenport, an assembly line of nourishment formed on Friday night.
The stations on the line? Peanut butter packets, soups, snack crackers, a fruit roll-up, juice box – and others.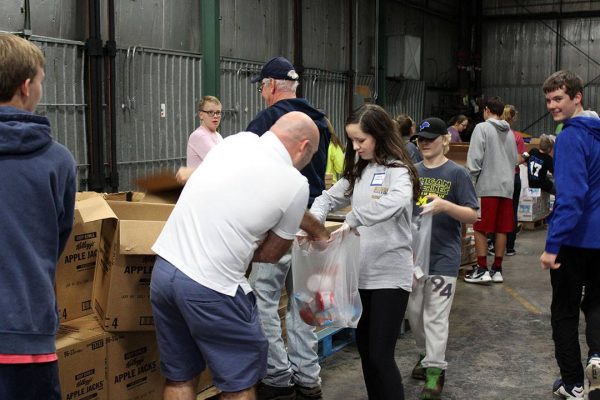 The workers? Kids and adults on St. Paul's annual eighth-grade confirmation retreat. Some of them were assigned to the stations, to place a designated amount of a particular item in a bag…held by others who were assigned to walk the assembly line with a bag (or 2, 3, or sometimes they tried 6!) to fill…then left at the end of the line to be packaged by others in boxes and stacked pallets.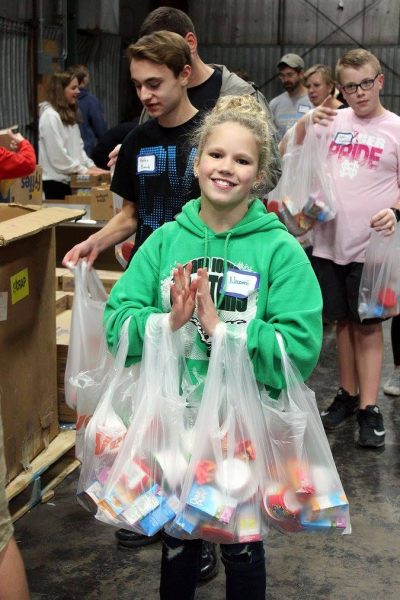 All together, in about two hours, they put together 2,100 weekend meals for hungry kids – just a little bit shy of a week's worth of packets.
Belinda Mielenhausen was the River Bend staff member on hand that night The weekend meals are sent to schools throughout the region for the foodbank's backpack program, she said. The initiative feeds about 2,700 kids per week with free, nutritious food that they can easily prepare at home. The backpack meals are sent home on Fridays for nourishment over the weekend.
It is one of several initiatives of the foodbank, which collects food donations for distribution to more than 300 charitable community organizations that support the hungry. Its warehouse is 60,000 square feet, including a 3,600-foot freezer/cooler unit. Its service area includes the Quad Cities and 22 counties in eastern Iowa and western Illinois.
For the backpack initiative, crews of volunteers, like St. Paul's, come and help package the meals. Some are large, some are small. All are dearly appreciated, she said.
The food goes to school kids in Davenport (including Madison Elementary, which St. Paul partners with), East Moline, Rock Island, Moline, Pleasant Valley, Bettendorf, Clinton, among others.