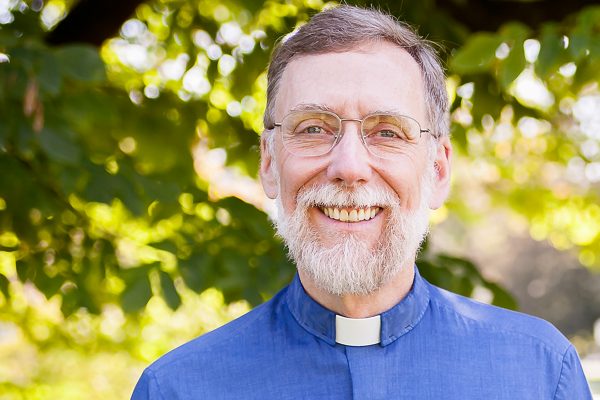 St. Paul 7th and 8th graders, together with their (amazing!) sponsors, wrapped up the 2020-2021 Confirmation year last evening. Not surprisingly for this year, the clouds gathering menacingly overhead as the afternoon wore on made for some touch-and-go uncertainty about whether the group would be able to meet on the North Lawn, as planned. That didn't happen, and it may seem surprising that the middle schoolers took this all in stride. It is not surprising; they have been troupers all year long in adapting to change and disruption.
The 7th graders made a day-long retreat at Camp Shalom into a great kick-off on their two-year journey, despite the retreat requiring healthy distancing, masks, carefully isolated food service, and hiking as limited-size groups to multiple learning locations. The 8th graders sustained their small-group connections, including one group that used an iPad – sometimes perched on a lawn chair – to bring a quarantined member into the group every week. They all endured the vagaries of weather, dwindling daylight, and gnats in outdoor meetings in the fall.
Through the winter it was all Zoom, all the time. We learned a lot about one another's ceilings (picture the iPhone lying on the floor), pets, and virtual backdrops, as well as the resilience that adapts to inconvenient circumstances. Lent brought the opportunity to gather again for worship, using the marked spaces in the sanctuary, and after Easter we could again be in the large downstairs room with masks and "seating dots" marking the floor.
The changing, shifting, unpredictable character of our meeting patterns offers an interesting perspective into our topic for the year: the Small Catechism of Martin Luther. The 16th-century, one-time monk, whose name now attaches to one branch of the Protestant Christian church, wrote the Small Catechism as an introduction to the basics of faith. He meant it as a guide to pastors and families to ensure that the faith would be passed on well from one generation to another. For nearly 500 years, it has done just that, through wars, droughts, fires, pestilence, earthquakes, volcanic eruptions, migrations, persecutions, secularization, and more.
The catechism has been adaptable and enduring not because its words are perfect, but because it is designed to be used in a community of faith. From one generation to another, from elders to youngsters, from parents and grandparents to children, from friend to friend – the Christian faith is a communicable disease, in a sense. Most people end up catching it not from a book or a video or a building, but from another person. The catechism lives on because it helps us have the words to talk about faith when someone notices that we have "symptoms" of faith, or when that other person starts to feel the symptoms and asks us about them.
Our middle-schoolers, the families who support and encourage them, and the sponsors who accompany them in Confirmation demonstrate their persistence every year as faith develops through the relationships that pass it on and nurture it. This year, when familiar patterns were repeatedly disrupted in so many ways, the importance of that network of adaptable connections became especially clear.