2
Christmas memories: Grandma's gift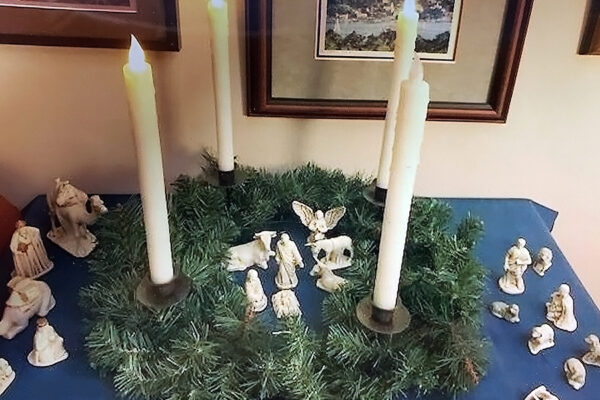 The Saturday before the first Sunday in Advent, a short, square, white box is removed from its shelf in the basement and brought upstairs. The contents of this box are one of the most precious gifts I have ever been given. It is the family's nativity set.
Each of the 20 pieces was carefully handmade by my mother, Ray's grandmother. As I unwrap and place the figures in and around the Advent wreath, I remember the wrinkled, arthritic hands that so lovingly made them. I remember the generous heart that spent so many long hours crafting them, and then gave them away.
A lot of memories surround the set — 45 years of them. My favorite is the year three-year-old Ray told the Christmas story to his best, stuffed friend, Lambie. Pointing to each figure, mispronouncing some of the words, likening Mary and Joseph to "mama and papa bear," and telling Lambie he was glad he didn't have to ride a donkey or a camel. His story had the main points — with a few unusual details. His dad and I have smiled for years over the serious question, "Wouldn't that straw be prickly for the Baby Jesus to sleep in?"
A part of every Christmas, family traditions around the nativity set have evolved over the years. Sometimes we have shared with family and friends, but most often it has been just the three of us and the cat. One year we "hid" the holy family on the first Sunday and then moved it each day around the house and a little closer to our stable in the wreath. Recent years have seen us, armed with cocoa or hot cider (with a cookie sneaking in), gather late on each Advent Sunday night, light the next candle, and sit together in the soft light. Often we read part of Luke's Christmas story, Rick's deep voice so clear in the silent room. Sometimes we just talk. This is always a sweet, quiet time, precious in the midst of all the craziness the holidays sometimes bring — and it's all possible because of Grandma's Gift.
-Jeanne Withycombe lives in Bettendorf with her son, Ray.