3
City girl, country skills
She brought five pigs, one calf, and five projects to the Mississippi Valley Fair – such as a tie blanket and pillow, an apron she sewed.
Cassi Paustian, 10, also made a special hanger to display awards and medals to be judged at the fair. After last week, she's going to need that hanger – especially for the Reserve Champion banner she earned for her pen of three pigs.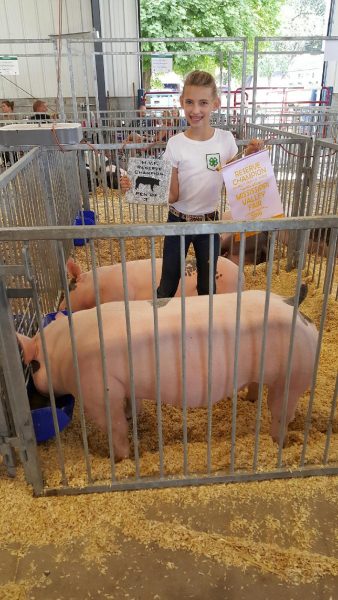 She is the only kid in her class at Riverdale Heights Elementary School in Bettendorf who shows animals at the fair. Her confidence and knowledge in how to do it well comes from years of hard work and practice – Cassi has been climbing into the ring since she was 3 years old. This was her first year in 4-H, as part of the LeClaire Boosters.
"It's just really, really fun," she said on Monday, while recovering from some pretty long days at the fair – at least one of those days from sun-up until well after sundown. "My mom's side always showed cattle. My dad's side always showed pigs."
So Cassi does a little bit of both.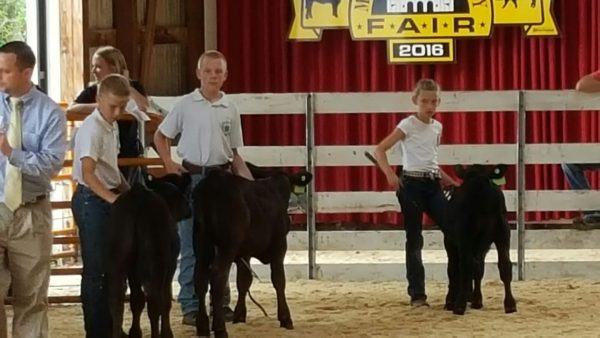 Cassi's pigs and calf live at the farms of family friends, Dave Chapman and Brad Musal. She visits the farms to help care for the animals – feed them, walk them, take care of their skin when they get a little bit too much sun, trim their hair, wash them with Shimmering Lights shampoo (and make sure not to get any water in their ears, it's not good for them).
As fair time drew near, Cassi had to choose which pigs would be the best ones to show – such as which ones would have enough weight on them. Those under 225 pounds cannot be considered for champion.
Chubs, Blake, One, Four, and Blue were the lucky ones.
Cassi also showed a bucket calf, which she will show next year, too. The calf entry requires an interview. She also competed in the livestock judging competition, where she earned 8th place out of 25 kids in her group.
The techniques for showing vary, but looking at the judge is most important, as is positioning the pigs properly so the judge can see them well. Cassi calls it the "sandwich" method.
"Always keep the pig between you and the judge – you do not want to be the meat. The people should be the bun," she said.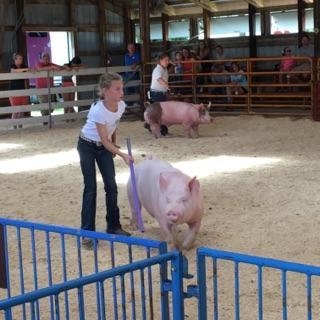 Cassi's mom, Shelli, was a farm kid.
When Cassi was younger, her grandpa, Dean Paustian, showed pigs. All of the grandkids would walk in the ring with baby pigs. Then, a year or so later, she would show pigs in the open class on Sunday – with the help of a grown-up.
"She knows what she is doing," mom said. Grandpa remains involved in Cassi's adventure.
Shelli appreciates the organization, planning, focus and goal-setting skills Cassi learns by showing. "Her knowledge about other living creatures is growing, too. I grew up on a farm – that's an important part of my life that I want to share with my child."
She speaks highly of Dave and Brad – who provide the home for Cassi's animals. "They are both wonderful people, neither one had to give Cassi this opportunity. It teaches her about sharing and giving to others."