My father, "the Good Reverend" as I called him, lived 84 magnificent, fulfilling years. This weekend we will have the opportunity to honor and celebrate a life very well lived. While it is normal to be sad on these occasions, I take tremendous comfort knowing that my dad has gone to his great reward.
My dad was one of the most honorable men I've ever encountered. He took pride in his work and family. My dad was a force and worked harder than anyone I've ever known.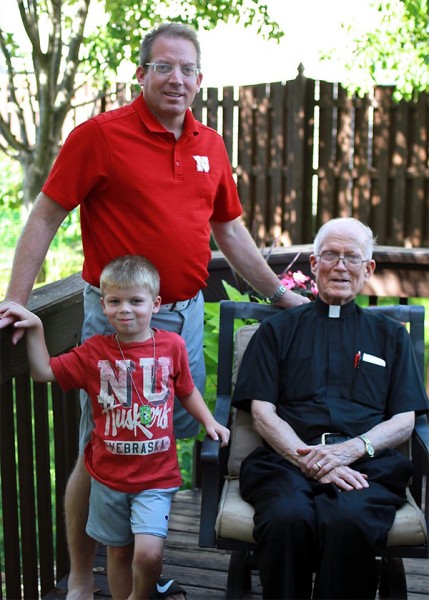 My father's calling and vocation in life, to be a priest, enabled him to serve Christ in many ways including: participating in the funerals of both of his parents, officiating at both of his children's weddings (as well as co-officiating at the weddings of two nieces), and baptizing all five of his grandchildren. My dad's life revolved around the service of Christ and he lived to celebrate The Eucharist and did so every Sunday since he was ordained to the priesthood 1957 (more than 3,000 Sundays). His unbroken streak makes Cal Ripkin's consecutive games played pale in comparison. The last two Sundays of his life involved him worshipping in a pew rather than celebrating or concelebrating the Eucharist and I can't help but feel that my father had come to believe in recent weeks that he had been a good and faithful servant but that he had run his race and that it was simply "time to go."
My father's closet was solid black. His apparel consisted of a white clerical collar and black clerics (although Jennie reminds me that she takes great pride in the fact that she recently was able to get him to wear an occasional "civilian" shirt–in black, of course.) This is who he was and he was the "man in black" to me and to many others who saw him walking through the streets of Gering, Neb.
My father wrote, kept and left notes everywhere. There was never uncertainty about what he'd read because there were notations everywhere and the ever-present "WJB has read" scrolled across the top of the newspaper, letters, magazines and anything he touched. For some time my father kept track on the back of an envelope the number of times people being interviewed used the words "actually" and "you know." These things drove him crazy!
My father wrote letters on a manual typewriter; I am pretty sure he was one of only a dozen people left on Earth who did this. In his younger days his weekly letter, "The Dinosaur Report," to his parents and sisters kept everyone apprised of the things in his life and on his mind. He was one of a kind.
My father had no interest in athletics, but he followed me around to track meets, basketball and baseball games and took me to football games because they were of interest to me. His very presence made up for the fact that he passed his time reading.
My dad watched the news faithfully and even followed politics. I pray in thanksgiving that he will be spared this election season! As I write this I can't help but hear his response of, "True, true!"We will really miss the comedy he provided on Christmas morning…his gift selection for my mother—usually from the sale rack (sometimes the men's) and almost always oversized—provided much laughter.
My father would have chuckled and enjoyed knowing that unbeknownst to me I sat in the "death chair" for most of last evening while I, along with my mother and sister, began organizing details for the week ahead. Our family has a history of "death chairs" and this brief chapter and my own experience will provide the dark humor and lore around which our family is built and in which my father took great delight.
It is reassuring to know that my dad was not afraid of death and he was ready to go. (Recently, he introduced me to his lawyer with his trademark smirk and the introduction of "you'll get to know him when the time comes.") In fact, my mother and father spoke about dying Sunday evening and Monday morning. He knew what was ahead and had no fear. As a dear friend wrote last night, my father "breathed Paul, naturally." "If we live, we live to the Lord; And, if we die, we die to the Lord, so then whether we live or die, we are the Lord's." No verse captures my father's life and life's work better.
My dad loved family gatherings, including funerals, and always reminded us to take family photos while together, which we will surely do this weekend. He will be missed at the many gatherings awaiting our family. But, my father was very practical about the inevitability of death for us all and I know in my heart his last moments in his home with my mother were peaceful ones. I would expect nothing less for one of God's most obedient servants.
R.I.P. W.J.B.
W. Kent Barnds is the vice president of enrollment, communication & planning at Augustana College.