Farming growth
Ahmed Fathallah is a farmer in the community of Kafr Abo Shehba, a city in the Bani Suwayf region of northeastern Egypt. Ahmed cared for his lands the same way his family had for generations. With changes in the environment, Ahmed found his farming methods difficult to sustain. "I would buy seeds from local merchants and prepare the land using traditional agricultural methods. It was very expensive and unproductive," Ahmed said.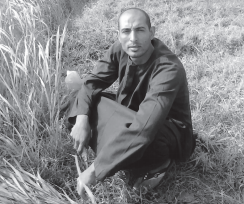 He attended a seminar and learned alternative farming techniques – techniques that reduce cost and waste – from the Coptic Evangelical Organization for Social Services, or CEOSS, an organization that reaches about 2 million Egyptians a year in more than 100 rural and urban communities. Supported by gifts to ELCA World Hunger, CEOSS teaches farmers modern agricultural methods, including using compost (organic fertilizer) to decrease the amount of chemical fertilizers the farmers use.
"I worked with CEOSS to implement a compost model," Ahmed said. "It helped me produce safe, good crops and save a lot of money. I learned to recycle agricultural wastes in a good manner."
The new techniques have helped Ahmed and his family increase their income. Today, his children are enrolled in and regularly attend school, the family has healthcare, and Ahmed is more confident about his future.
Your gifts to ELCA World Hunger touch the lives of farmers like Ahmed through education and training. Thank you for your support. This important work would not be possible without you.
ECLA.org/hunger