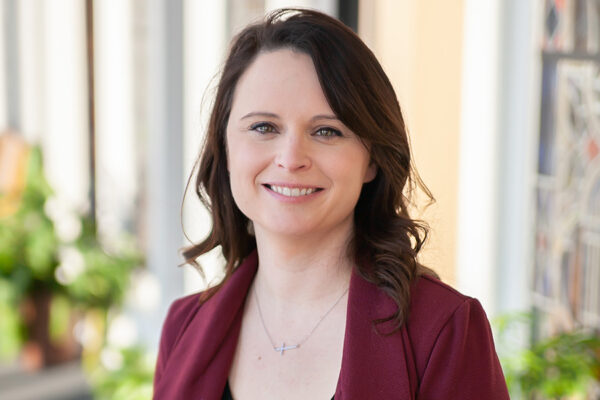 Earlier this month, as my daughter and I were hurrying out after Sunday services together, the rain started to fall and our trusty golf cart driver Dana pulled up and offered us a ride. We were in a hurry after receiving a phone call that our dog had somehow unlocked our porch door and craftily escaped our house. 
We jumped into the golf cart, rain pouring down, and started to take off. 
"My hands are full. I can't hold on," my daughter said. 
Reorganizing the belongings in my hands, shifting my coffee from my left hand to my right, I put my arm around her. "I'll hold on to you. I've got you," I said. 
Isn't that what Dana was doing when he picked us up? Completely unaware of our hurry, worry, and concern, he stepped in to make things a little easier. That's what our kind neighbors did, sitting under umbrellas on our front steps, petting our dog until we were able to get him inside.
That's what we do as parents, friends, caregivers, family, and Christians. Hold on to each other when someone's hands are full. Offer that little brace of support when it's needed. Isn't that what it means for us to be in community with each other?
Just this week at Madison Market a woman came through the line. Her mind was heavy with worry about the contents of a letter she'd received, eviction from her home if a crumbling retaining wall was not replaced. Where would she even start? She started with Kit Whan who immediately made it her mission to help. But little did anyone expect that an answer would pull into the J.B. Young Opportunity Center's parking lot later that afternoon.   
Our wonderful Pastor Katy was set to write a reflection for eNews this week but her hands and her mind are full after the recent loss of her mother and as she handles arrangements to move her father to the Quad Cities. That's a lot to hold onto this week. We've got you.   
During difficult times, times of tragedy, struggle, and grief, someone often comes along, sometimes with even the smallest of gestures to offer support. It may be the barista at the coffee shop with an extra big smile that morning, a text from a friend with a funny quote, a golf cart in the rain, or sometimes, the help is in the car right behind us. It's also the courage to trust in your faith and open up to others when you just can't do it, you can't quite hold on to everything at that moment.    
And that's what God does for us each and every day. Picks us up when we need a little help and puts an arm around us when our hands are full, our walls are crumbling, our souls are heavy. Or puts someone in our path to make our journeys a little smoother even on the rainiest of days.