There's this photograph that I can't stop thinking about.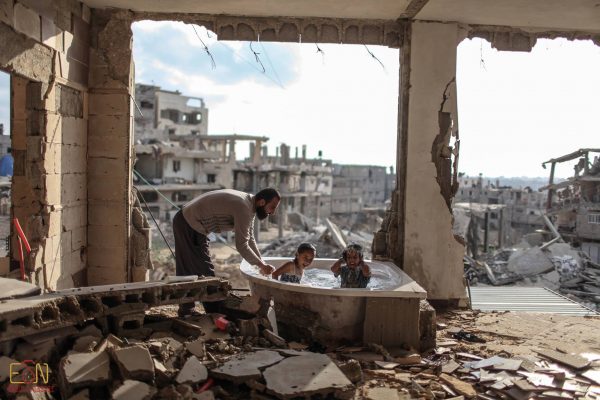 Photographer Emad Nassar took the picture last summer in Gaza, Palestine. In it, we see Salem Saoody playing with his daughter and niece in all that remains of their war-damaged house – their bathtub. Completely destroyed buildings surround them. There are no walls. There's no furniture. We see only hollowed out buildings and crumbling cement. And amidst the rubble, we see the smiles of young children and the tender care of a father.
It's hard to shake this incredible image of life in the midst of death. This photograph shows a little family full of such resilience and joy even as their world is literally falling apart around them.
I think that it's an image of what hope looks like. Hope, after all, doesn't deny the reality of our sorrow or brokenness or fear. Instead hope looks despair and destruction square in the eye and dares to say that there's a spark of good, still, in our world and in our lives. Joy will persist. Life will emerge. Laughter continues. Relationships hold fast.
Sometimes it's only when our world is falling apart around us that we realize the power of hope. It's an inner orientation that urges us to keep on loving, even with broken hearts. Hope moves us to keep breaking down the barriers that separate us, even when we are afraid. And it is hope that gets us out of bed each day, convinced that we can somehow make a difference in this world. Hope moves us to reach out to another, to play and to laugh, rebuild and remember.
In his letter to the Romans, Paul writes to his friends reminding them that they are God's beloved children. This is their most important (and our) identity.  We are God's children, heirs who will inherit all the riches that God so abundantly gives, even, especially, in our suffering. And this is why we can hope, because God will carry us through death (and all its branches of influence) into life (and all of its tendrils of promise).
So even as the world is falling apart, literally and figuratively, even if we can't see it, we can hope. "For in hope we are saved.  Now hope that is seen is not hope. For who hopes for what is seen?  But if we hope for what we do not see, we wait for it with patience." (Romans 8:24).
– Sara Olson-Smith, associate pastor