Inheriting angels
The theme of this year's Advent devotion is: Do you see what I see? An array of St. Paul voices selected a photo or photos that hold very special memories to them, then sat down and reflected on what that photo means to them. What do they see and remember that others may not when looking at this photo? Through their words and stories, hopefully, you'll see a little of what they see. 
I grew up just down the road from our country church. My siblings and I would get ready for Sunday school and walk up on our own on Sunday mornings. The church was the center of our family and friends. I realize now how fortunate we were to have that experience.
Every Christmas Eve there was a children's pageant that had its beginnings in the 1800s when the church was first established. We kids always had a small part to memorize for it. I was always so nervous about it that night. Afterward, Santa would pass out sacks of candy and fruit.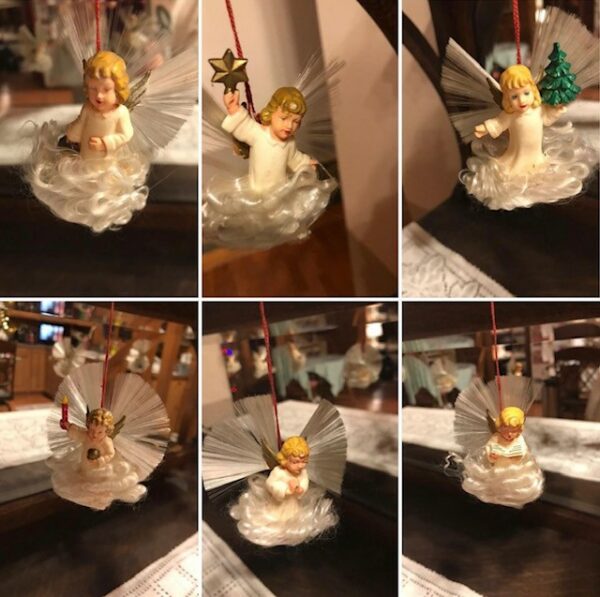 It was so special to be at the church at night, packed with family members that were home for the holidays. Evening church services still bring back that special feeling.
I have several strings of old-style Christmas lights that remind me of these times. I keep replacing the fuses and bulbs so I can hang them on the front of my house every Christmas. My parents had a short string of the same lights that were hung at the front entrance of our large farmhouse every Christmas. I've always loved their warm and colorful glow. My mother would decorate the mantel with her set of delicate angels and then caution us not to touch the spun glass wings. What a temptation those seemingly soft wings were!
I inherited the angels and now hang them on an antique buffet from my parent's home. The angels' reflection in the mirror is lovely. These special memories have become part of my Christmas year after year.
Sarah Thomas lives on a farm in a cozy little log home near Buffalo Prairie, IL. She has two grown children, Wendy and Wyatt, and 6 granddaughters