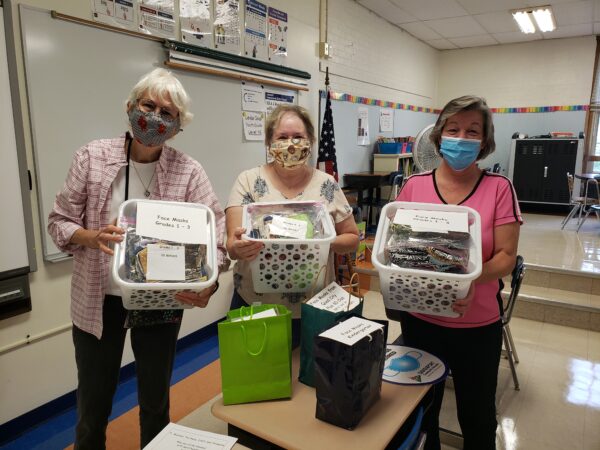 The St. Paul quilters, when the pandemic began, knew that meeting together to make quilts to give away could not happen – possibly for quite a long time.
So, the group changed its focus in a big way – and invited others to be a part of the efforts. They worked from home and sewed hundreds and hundreds and hundreds of masks. The most recently delivery was dropped off earlier this week to Madison Elementary School for the start of the school year. St. Paul partners with Madison as part of the Neighborhood School Partnership. The masks also went to Genesis, Salvation Army, St. Paul, and Generations of Rock Island.
Cathy Hagglund and Karin Hanson led the effort, with more than 20 others participating. The two brought bins of masks to Amy Bracken, a fellow St. Paul member who teaches at Madison Elementary.
Karin wrote a note to the mask makers after finishing the delivery.
"The masks were met with great appreciation and enthusiasm!" Karin said. "This was made possible by all who worked on these masks, doing a variety of tasks. We still have some masks out being finished, but we've delivered plenty to get the school year started. We have loved working with all of you in these very different times.  We worked apart, but were together in spirit. Maybe someday we can all get together in Fellowship Hall and work on projects."
Indeed, the quilters will gather again someday. But for now, their talents are being used to keep kids and adults safe at a beloved neighborhood school.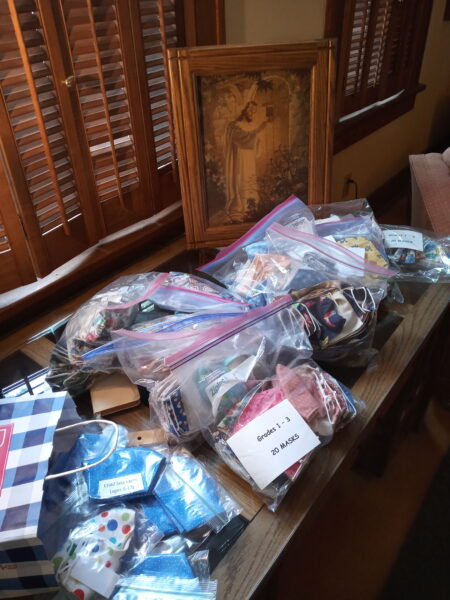 "Jesus is with us as we make these for the kids. Let's say prayers of blessing as we think about the children who will be wearing them as they return to school and the teachers and staff who will be working with them," Karin said.