3
Mourning for her beloved Bahamas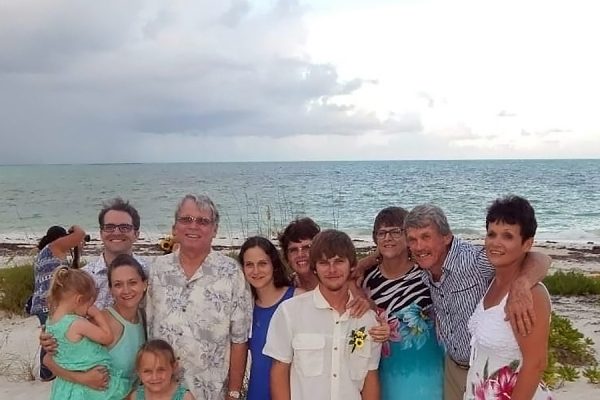 Editor's note: Justine Stamer is a St. Paul member who grew up in the Bahamas. She recently shared her thoughts about her home and Hurrican Dorian.
What was it like growing up in the Bahamas?
During the week we were at our family business (marine store/Mercury dealership) whenever we weren't in school. And by family, I mean a lot of family – my dad, uncle, and cousin were mechanics, my aunt works the register, my mom runs the office. And now my brother is also a mechanic and my sister runs customer service and the parts department. I grew up around outboard engines, collecting spare nuts and bolts, and if I was lucky, getting to go on service calls to the marinas or on test runs once the engines were fixed. On the weekends we were always in the boat. In the winter it was deep sea fishing, early summer was for running down shellfish in the tin boat, and late summer was for diving crawfish.
What do you miss about the Bahamas?
I miss my family, being there for all the gatherings for birthdays and special events. I sometimes miss waking up at 4 a.m. on a Saturday to go try and catch fish for dinner.
What do you love most about your home?
I love the way the people of my island come together. It can be a precarious place to live – an island with limited resources and poorly run infrastructure. There's this sense that everyone is in it together, because they are and they have been for generation after generation. The homes and businesses are constantly being rebuilt after storms, but the shared history remains.
Where does your family live?
My parents, brother, and new sister-in-law live in Marsh Harbour, Abaco, which is where I grew up going to school during the week. Our family is incredibly fortunate in that we have a second home on the southern end of the island, in Bahama Palm Shores. Marsh Harbour sustained a direct hit from the eye of the storm and  took the brunt of the damage. Our home in Bahama Palm Shores was undamaged and so my parents were able to seek shelter there once the waters receded after the storm finally passed.
How long was it before you were able to hear from them?
I was able to stay in contact with my aunt and sister as they live in a southern settlement. I lost contact with my brother and parents just as the storm hit, around 10 a.m. that Sunday morning. It was midday Monday before we had news of my brother, and an hour later we heard that my parents were OK as well. It wasn't until Thursday when they left Marsh Harbour that I was able to talk to them myself.
What damage did their homes sustain? Will they be able to rebuild?
My brother and his wife started to lose their roof during the first part of the storm. During the eye they sought shelter with a neighbor, which is good because the rest of the roof went in the second half. My parents' roof lost all its shingles and tar paper and leaked throughout the storm. They lost a window and an A/C unit in one bedroom and had to barricade the door shut to that room to keep the winds and rain from getting into the rest of the house. Then another room lost an A/C unit, and also had to be barricaded. They said water was running down the stairs from those rooms like a stream.
By the time they were able to leave their home, my dad had said goodbye to it multiple times. They don't have insurance, so whether or not they rebuild hasn't been decided. It's still just one foot in front of the other right now.
My brother also doesn't have insurance, but he doesn't have the luxury of a second home to retreat to, so once rebuilding can start we have family friends who want to help him rebuild. For now, he has been staying in my sister's home, which only had a little roof damage. She and her husband evacuated to an island whose hospital isn't as crowded, as she's due with her first child next month.
Our family business lost its front windows and parts of the roof were damaged. The water levels rose to the second story of the building. It has been looted multiple times, and there is not much left. Thankfully the business is insured and they have every intention of rebuilding.
It's likely that their houses have been looted multiple times at this point, or that others less fortunate are sheltering in the remains. The people left on the island are in survival mode.
How have you felt supported during all of this?
Our friends at St. Paul have been a tremendous support. I spent that first week practically living in the commons during preschool, either scrolling my phone for any new aerial footage that might show my families' homes, or sharing everything I knew with any staff member willing to listen. Julia and Lee Marbach threw a fundraiser with our incredibly generous friends this last weekend, and Julie Willey of WilleyBandz is selling headbands and scrunchies with 100 percent of the proceeds going to hurricane relief organizations.
What has been the hardest of this ordeal?
Not being there to experience it with them. I lived on Abaco until I turned 17 and left to attend Iowa State, so I've experienced my share of hurricanes. Before a storm, I'm watching at a distance as it nears and thinking of all the things I would be doing to help them prepare. During the storm, I'm checking the National Hurricane Center website every hour for updates on it's progress, remembering the high whistle of the wind as it comes through any openings left, the darkness of the house with all the shutters on. After, picturing the damage and remembering what it feels like to step into the light after a day or two in the dark, blinking as you take in a familiar landscape that has been forever altered.
Not being there for all of that is always hard, but this was a storm unlike any my island has ever seen. So not being there as they navigate this entirely new phase is difficult. They're learning to accept help in ways they've never needed it before, as they wait on supplies and permissions to start the long road to rebuild and resurrect the lives they once had.