Paper, cardboard, plastics, glass, tin, aluminum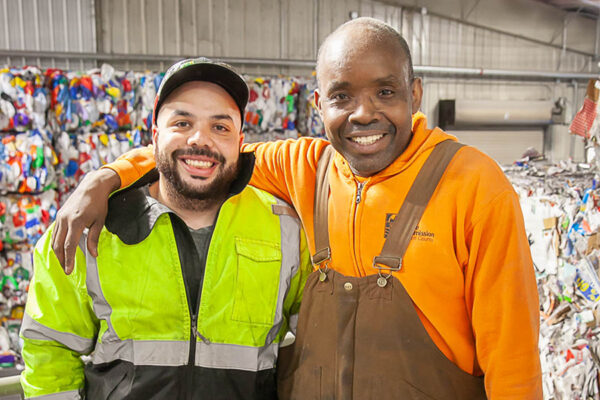 On a sorting line, Rolla Lucas takes his place at 5 a.m. four days a week. Each day, for 10-hour shifts, it's his job, and the job of his co-workers, to sort the recycling that comes through the Waste Commision of Scott County. He spots the paper that comes through his line one day. Some days it's cardboard or plastics. Glass, tin, and aluminum make their way through the sorting center employees as well.
"I can't say enough good things about how the Waste Commission has treated me and others from HDC (the Handicapped Development Center)," Rolla said. The Waste Commission of Scott County partners with HDC, which serves people with disabilities. "I love the challenge of working here."
Collecting recycling from Davenport, Bettendorf, Rock Island, Moline, East Moline, Iowa City, Pella, and West Liberty, the Scott Area Recycling Center is one of the Waste Commission of Scott County's facilities. Despite changes in the recycling industry, the center has remained successful in its endeavor to reduce the impact that trash has on our environment. Because of that success, the Scott Area Recycling Center has been recognized in the Wall Street Journal.
The center processes approximately 80- 90 tons of recycled material per shift. With two shifts, that is 160-180 tons of material — just from the surrounding area. Where does it all go? Scott Area Recycling Center has found all domestic customers for its product. In addition, the products that they send out are extremely clean — this is due to workers like Rolla ensuring nearly no styrofoam or plastic bags make it into the sorted material.
In addition, about a year ago the facility made a $1.4 million investment in a new robot machine. The robot sorts out clear plastic from the rest of the material. This machine has made a significant impact on the recycling process. It has reduced labor costs and frees up other line workers to focus on getting other types of material more accurately sorted.
Does it make that big of a difference if we recycle? Recycling prolongs the life of our landfills, people from the recycling center say. Recycling also helps to conserve natural resources. Recycling paper uses less water than making new paper, which also results in more carbon dioxide being removed from the air by trees. Recycling plastic saves oil. At the recycling center, Rolla finds meaning in his work.
"It's protecting God's creation, plus teaching us to reuse and recycle more and throw away less," he said. Rolla, who loves God deeply and serves faithfully as a St. Paul usher at the 11:15 worship, suggested to a coworker, who was looking for a church, that he visit St. Paul.
Jared Masterson and his fiancee, Katie Sass, took Rolla's advice and became members last October. Jared is a lead site technician and is responsible for line operation during second shift. Making bales, loading trucks, and motivating his workers on the line are some of Jared's daily tasks. The goal is for line workers to sort as accurately and quickly as possible to minimize the amount of material going to the landfill.
Throughout his shift, Jared keeps an eye on how much material is on the belt to the landfill. From his judgment he acknowledges or encourages his workers. Jared holds competitions, such as free lunch for the fastest sorter that day. Starting as a pre-sorter and working his way up, Jared has worked almost four years at Scott Area Recycling Center. Product quality, effort into material, high standards, cleanliness, and pride in the work are among Jared's list of things that he believes makes the facility special.
"I love the family atmosphere," Jared said.