Physically, mentally, spiritually, and emotionally well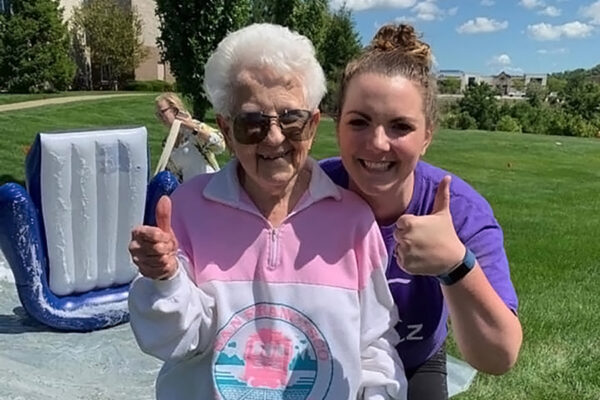 On Wednesday, it's bingo day at Senior Star at Elmore Place. Up until earlier this year, that meant lots and lots of people gathering together to play the much-loved game at the same time. Now, with COVID-19, it means more sessions, with no more than eight people in a space sitting at least six feet apart. Senior Star is a high-touch place, "a hand on a shoulder, hugs" type of place, said Meredith Mercer, who has worked at Senior Star for seven years as a program director.
"We had a lot of large group activities — live music, drinks, snacks, exercise class. They were in big groups eating with their table mates. We had three activities in the morning then three after lunch. We encouraged people to invite their friends and family."
"This was a big shift for us," she said.
Senior Star is just one of countless senior living organizations around the world that limit visitors to help protect the residents who live there. Coupled with a limit on group gatherings, and people staying in their rooms and apartments more, life is different now. The staff and residents of all facilities are adapting, with window visits and video chats, and creations like a wagon made into a rolling happy hour cart.
"I load it up with arts and crafts supplies, root beer floats," Meredith said. "I go door-to-door with my mask and wagon. It's good to have that purposeful moment with each and every resident. We share smiles and laughs. It's a good way to check in with everybody."
Activity professionals provide quality of life for clients through an ongoing balance of physical, mental, spiritual, and emotional activities, according to the Iowa Association of Activity Professionals. They encourage self-expression, self-discovery, and life-long learning. These professionals work in settings such as retirement, assisted living, adult day programs, senior centers, and long term nursing facilities.
At Good Samaritan in Davenport, Lynette Wall leads the independent living apartments on campus. Before her Physically, mentally, spiritually, and emotionally well With access to friends, family, and activities limited, program directors at area senior living facilities continue to keep people active during the pandemic current position, however, she was an activities director for many years. While the people who live in the Good Samaritan independent living apartments can still have a limited number of guests to help with care, the virus has drastically altered life.
"We had a full social calendar and daily meals in the dining room," Lynette said. "We had to adjust our thinking about how we're going to make this work."
"You can't just take care of the physical needs of a person. They must also be cared for spiritually, emotionally, intellectually, and socially. Exercise, devotions and bible studies, trivia and current events — all the different aspects of life. Eating together, parties, and outings. We had lots of outings, or going outdoors in the courtyards — enjoying time out there."
Now, the programs in her three buildings follow the rules — no more than a handful of people gathered for activities, all six feet apart. Lynette has adapted her spaces so she can show movies in three or four different areas. Bingo is restructured, too. A weekly faith and fellowship is filling a spot left empty by shuttered churches. "Their faith is really important."
"I look back at the last six weeks and think, 'Is this even real?'"
Lynette lost her grandparents when she was very young — and she feels like she was searching for a connection with older people because of that loss. As a young adult, the first time she started a job as an activities director, a nurse chuckled when Lynette told her she was just going to work one day a week to get herself out of the house. "We'll see about that," the nurse said.
Now, almost three decades later, Lynette continues her work. The nurse, Anna Flynn, died shortly before Lynette and her husband moved to the Quad Cities to be closer to family. She gathered with Anna's loved ones at her bedside to sing hymns and pray. "She always encouraged me."
Meredith, who works at Senior Star, knew she wanted to work with older adults since she was a child. She interned at Senior Star during college.
"I fell in love with the residents. They celebrate everything with you, and you celebrate everything with them," she said. Meredith acknowledges how hard it is on residents to be isolated from their loved ones. "Easter was extremely hard," she said. "They wanted to be with their families. We had a service streaming, but that's not the best way for the older generation."
But also, there's joy. Meredith said she really had to step up her Facebook game — as that is a tool that family members are using to see photos of their loved ones online. On Palm Sunday, the people of Edwards Congregational Church drove through the Senior Star parking lot with palm branches waving. Annie and Gary Harless came and played Tic-TacToe with residents through the windows — and Gary shared some "very funny" jokes. Zoom and Facetime and birthday parties through windows and donut decorating and Easter egg hunting and window paintings are part of the activity, too.
"They have a new norm," Meredith said. "They are troopers." One important piece of joy for Meredith? Her grandma, Jo, lives at Senior Star. "She moved in last April. It's extremely good to have her here, especially during this time."