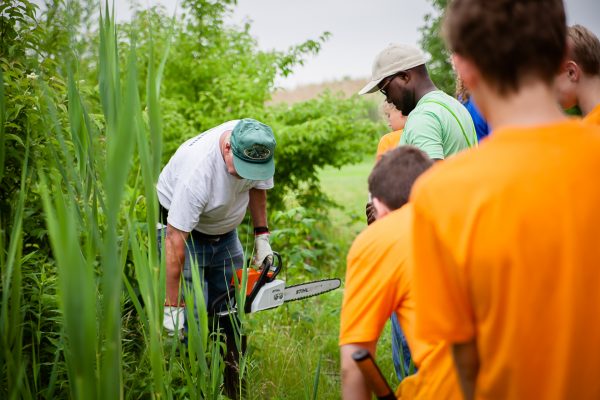 The 38 acres of land and 20-acre pond, tucked away along Highway 5 in East Moline, needed a new owner.
A wetland, the family who owned it knew they could no longer take care of it. The U.S. Army Corps of Engineers wanted to find an organization that it knew was up to the task. The offer was this: Take the land for $1. Make sure it is well taken care of.
That's where the people of the Quad City Conservation Alliance came in. You might recognize the name – they are the group that owns and operates the QCCA Expo Center in Rock Island. The alliance is a group of conservation-minded organizations that banded together to create a nonprofit organization dedicated to conserving natural resources.
"We have lots of volunteers interested in a piece of property like this," said Dick Riddell, who is one of the people who guides the work at the organization's wetland. They are a couple of years into ownership. "The goals are preservation and education."
A big part of the group's efforts are focused on eliminating invasive species that have taken over, Dick said. Improving bird habitat also is important. Fifty new bird houses just went up to try to encourage birds to come and thrive there. A Boy Scout is working on becoming an Eagle Scout with a bird project, as well. The wetland is home to at least 500 species, including red fox, coyotes, bobcat, deer, and all kinds of birds like the kingfisher, warbler, tree swallows, Dick said. For plants, one in particular stands out – "we've got huge expanses of cattails."
"If you don't like snakes, you might not like it here," he added. "Wetlands are a really bio rich piece of land. The only animal we try to keep out of there right now is the beaver. On one little corner of the lake, there were 13 muskrat houses."
Dick also noted the difference between a wetland and a marsh. A marsh dries up. A wetland never does.
The alliance now invites groups out to enjoy the area, learn about and identify the species living there, and to work. The Riverdale Environmental Club came out earlier this summer, the Boys & Girls Club will be bringing out groups, and science teachers love it, too. Members of any of the organizations that make up the QCCA can get a pass to come out to kayak, hike, fish, or otherwise enjoy the wetland. "It's a really unique area," Dick said. "It's a real gem."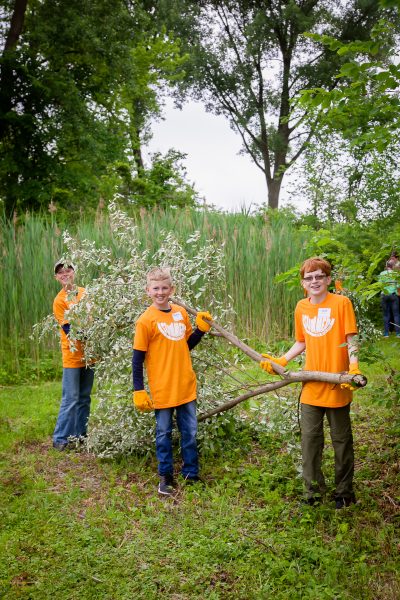 On a hot and bit buggy day in June, St. Paul middle-school students traveled to the QCCA wetland and helped tackle the invasive species, autumn olive. They put on long pants and gloves, and helped cut away a plant that is deceptive in its beauty. Pretty flowers do not always mean something is good for its surroundings.
According to The Nature Conservancy, autumn olive is a shrub that can grow as tall as 20 feet. Its cream to pale yellow flowers bloom in early spring and bring on an abundance of pink to red berries.
The autumn olive is a native plant of China, Japan, and Korea that made its way to the United States in 1830, the conservancy says. In the 1950s, it was widely promoted as a great way to provide wildlife habitat and erosion control in environmentally disturbed areas. Although it did make available habitat and food for wildlife, it soon became a major problem as it began to rapidly spread.
Autumn olive is an invasive species that out-competes and displaces native plants by creating a dense shade that hinders the growth of plants that need lots of sun. It can produce up to 200,000 seeds each year.
A few adult volunteers with chainsaws helped out. Dick says there's a crew of 10 who tend to the wetland on a regular basis – mostly retired people who like to be outside working.
"We want to introduce kids to the invasive species, and have them come out and help – throw it on the wagons and bring it out," Dick said.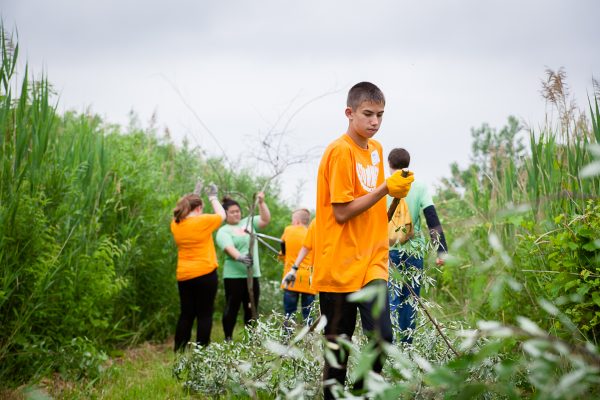 ABOUT THE QUAD CITY CONSERVATION ALLIANCE
The alliance was founded in 1984 as a non-profit by five local conservation clubs who recognized that they could accomplish more through joint action. The QCCA owns and operates the QCCA Expo Center, which is used for consumer trade shows and special events. Money raised through the Expo Center is directed to conservation activities in a 90-mile radius of the Quad Cities. More than $1.2 million has been invested in the Quad Cities for conservation activities since 1984 through the efforts of the QCCA.
Projects include:
■ Development of Wapsi River Environmental Center near Dixon
■ Reintroduction of peregrine falcons near Muscatine
■ Kids' fishing clinics in Moline, Davenport, Rock Island, and Galesburg
■ Waterfowl and raptor habitat enhancement projects along the Mississippi
■ Research equipment for state biologists in Iowa and Illinois
■ Handicapped fishing dock at West Lake Park, Scott County