Robot world
EV3 is ready to work.
It moves about the table, commanded by programming figured out by kids in the Sudlow Intermediate School FIRST Lego League.
Straight. Slight turn to the left to avoid an obstacle, then straight again to a turntable. A pause, then a steady push of a handle that rotates the table and drops an item on the board.
The exercise is one of many that the kids are figuring out with the robot – a new model given to the team this year by the St. Paul Neighborhood School Partnership. It's one way to help the kids and adults who were part of the now-closed J.B. Young school's league transition to a new school.
St. Paul members Russ Johnson and Dave Barnhart, whose professional life is in the world of controls engineering, volunteered at J.B. Young for about five years. They are now helping to lead the Sudlow team.
"This is our future," Russ said gesturing towards the kids gathered during a recent afterschool meeting. "And it's a lot of fun."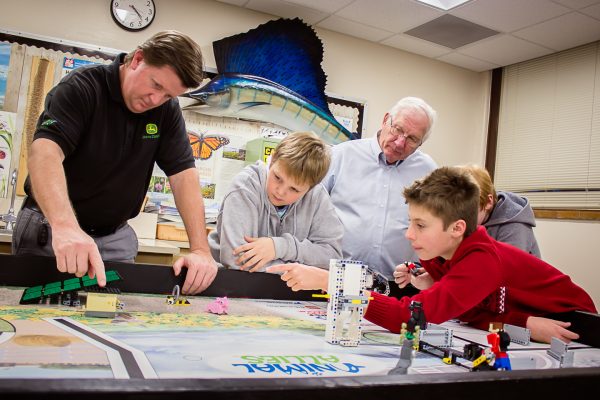 FIRST Lego League is a nonprofit designed to inspire young people's interest and participation in science and technology, and to motivate them to pursue education and career opportunities in fields of science, technology, engineering, and math – often referred to as STEM.
Worldwide, more than 460,000 participate on 52,000 teams. A wide variety of ages compete against each other. For example, the Sudlow team competed in a regional competition at the Putnam Museum in Davenport at the beginning of December with 32 teams.
This year's theme is Animal Allies. The competition involves three aspects: the robot game, a research project, and a test of the core values.
The robot game is where EV3 comes in. The kids program the robot for tasks such as picking up an item and taking an item to a specific place in a set amount of time. They use lots of math skills to determine how to make the robot move how they want it to move.
As the kids set the robot out on the tasks, missteps result in them running to the computer to fix this or that number, or to make it do this or that thing.
They also researched project on the theme of helping animals and humans live together well. A veterinarian visited as they created an app to help pet owners better care for their pets.
And then there are the questions about the core values of Lego League: gracious professionalism and what is called coopertition – a combination of competition and cooperation.
"Gracious professionals learn and compete like crazy, but treat one another with respect and kindness in the process," Lego League officials say.