Sounding Joy: Leaf Love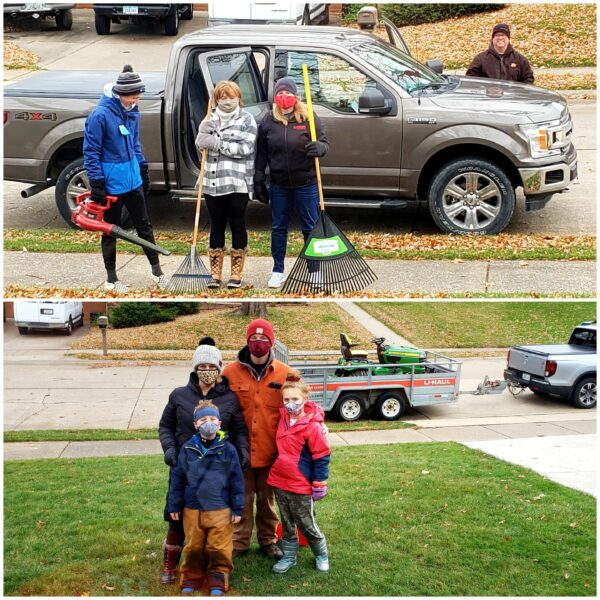 If you know me well, you know that my two favorite sounds are my grandchildren's voices and fallen, dry leaves beneath my feet. The kids' words and laughter elicit pure grandma joy. The leaves offer a more subtle joy, peace, really, something I look forward to every year. It is mid-November 2021 as I write this. My favorite season is autumn, and while I adore the bright colors and cool, crisp air of October, November is special. Although the days can be windy, cold, and gray, there is nothing like taking a walk and soaking in the sound of the swish, crunch, swish, crunch of spent leaves.
Exactly one year ago things were gray all over the world. In my own family, my husband Mark contracted COVID-19 and spent ten precarious days in the hospital. He was very sick for most of a month. During that time the trees performed their normal November dance. Day by day the branches shook leaves loose from our neighbors' and our mature maples, oaks, and locusts, filling our back yard, ankle deep. I was quarantining, hiding in our home, hoping and praying but also feeling afraid and useless. As I starting sharing about Mark, friends began dropping off meals. Their food sustained me, and frequent calls, texts, and prayers encouraged me. The best medical care possible was given to Mark, and his coworkers, friends, family, and St. Paul people offered words of love and prayer. We both felt lifted and embraced by an outpouring of goodness and giving.
Now, what of the leaves? Mark is the outdoorsy one. He loves being out in nature and working in our yard – I call it "playing outside." While he was hospitalized Mark asked about the leaf situation during our sporadic, brief phone conversations (no visitors allowed). I didn't feel up to the task. Then, I received a call about a plan. On November 15th, our children and grandchildren, traveling from near and far, arrived at our address, ready to conquer the problem of the messy, leafy 70's-shag-carpet of green-gold-orange-and-brown. Ryan, Kathleen, Emma, and Gabe emerged from one pickup truck, and Jason, Heather, Annie, and Cort from another. I greeted everyone from the front door. "Hi, Grandma!" "Hi, Mema!" called my precious grandchildren. Leaf blowers, huge rakes, lawn bags, and one John Deere lawn tractor were unloaded. Then – ready, set, go! All eight began their swift, efficient work.
Our windows were already all open. I tried to take pictures of these lovely, loving loves of mine. I shared live video with Mark. He was so surprised. This guy who is usually the doer and the helper was humbled and overwhelmed with joy. The group stopped for a moment to wave and shout "Hi Grandpa!" "Hi, Buppa!" Ah, those voices. Everyone worked diligently for several hours, and then, our grounds tidied, task completed, they packed up and were off like the wind. Woosh!
My favorite sounds? The grandkids' beloved voices, still, of course. I add to my swishy-crunchy fall favorite the chugging tractor, whirring leaf blowers, and scritch-scratching rakes of that November 2020 day. For me, there is a new kind of leaf love that reveals and repeats itself as sounding joy. It's an act of service that is music to my ears.
[One of St. Paul's core values is Courageous Service: "St Paul is a servant church. We take our cues for serving others from Jesus Christ, who in a single sentence summed up the importance of being available to others. I came not to be served, but to serve (Matthew 20:28)." There are many groups of St. Paul people who generously serve others. Check out www.stpaulqc.org to see how you may offer joy to those in need.]
Karen Holden is the St. Paul Book Corner Manager. She and her husband, Mark live in Davenport.