1
Sounding joy: Simple traditions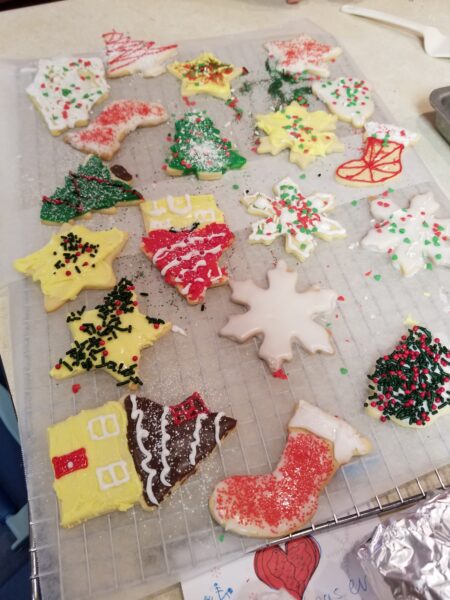 Recently, I found myself surrounded by groups of teenagers in a warm chapel hearing stories of quilting. Those two things, teens and quilting, are normally not something you find together. However, Confirmation at St. Paul has a funny way of bringing seemingly opposing things together. Pastor Sara shared her love of quilting with us as she told us the stories of learning to quilt with her grandmother. We were there for the 8th grade confirmation retreat, talking at that moment about the ways we may experience God through traditions. Talking with the young men in our group we discovered they too have traditions they share with their families, especially at Christmas. Whether those traditions involved matching PJs, worship, or opening gifts, they are each special. Sitting there, listening to that group of teenagers excitedly talking about their traditions, was truly a joyful experience.
As I heard their stories, I couldn't help thinking about my favorite tradition: baking with my girls. Christmas music, timers beeping, laughing, dogs softly snoring or sometimes barking, and storytelling. These are just some of the sounds in our kitchen around Christmas. My love of baking began when I was young and would bake with my mom. I recall her baking all year long, but especially at Christmas. She would bake all kinds of cookies including thumbprints, snickerdoodles, haystacks, and oatmeal raisin for my dad. She would stay up late at night after working and making dinner to bake. She shared those sweet treats with others wrapped in little packages with bows on top. I vividly remember taking a tray heaped with cookies to school for the teacher's lounge. It was a sad day for them when the last Lassiter kid left our small town elementary school! Sharing those stories and baking with my girls is a little window to their grandmother, whom they never had the pleasure of meeting. Continuing the tradition with them is bittersweet at times, but something I hope we can do with their families someday. If you were to ask either of them what their favorite Christmas tradition is, they'd quickly tell you baking! As a matter of fact, we've already started making our baking list.
As the Christmas season draws nearer I hope to repeat the sounding joy in the simple traditions we hold dear. Coming together again to partake in worship, the exchanging of gifts, or the baking of cookies will be extra special after spending time apart from each other this past year.
Kelly McCollough resides in Davenport with her husband, Mark. She is mom to two teenage daughters, Maggie and Julia.