Hope in the drought
A disaster of global proportion continues to take place, but is going relatively unnoticed. Drought is impacting millions of people globally, with southern and eastern Africa the most heavily affected. Many people are facing a multi-year drought, which has resulted in low crop production, rising food prices and household food insecurity.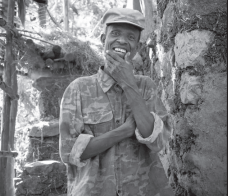 Countries, communities, places where Lutheran churches have been at work for generations, are suffering. Lutheran Disaster Response, working with companion churches and trusted partners, has hands and feet on the ground providing care, support and hope.
In regions where little rain has fallen over the years, change must take place for people to survive. Lutheran Disaster Response is helping support projects such as irrigation systems, education around crop and vegetable production, water management, and using tools and resources to help people get the most out of their land. People like Shamble.
In his first year, Shamble is already seeing positive effects. He says, "I was trained and given an improved variety of drought resistant teff [a crop similar to wheat]. My life and my family's life has really improved, I have built a new house and been able to buy some sheep and cows."
Your gifts to Lutheran Disaster Response bring lifesaving aid and resources needed to help those in crisis from disasters. Together, we are working with communities to be more disaster-resilient, helping save lives, improve livelihoods and mitigate the effects of disasters.
ECLA.org/disaster